Program
Reports in the FMS 2022 symposium are categorized 5 main fields and are organized in many sessions:
+ Materials for energy and environment field (EE)
+ Multiferroics and magnetic materials field (MM)
+ Photonics and hybrid materials field (PH)
+ Spintronic materials and Devices field (SD)
+ Theory and Computation field (TC)
Map of conference rooms for sessions is the below: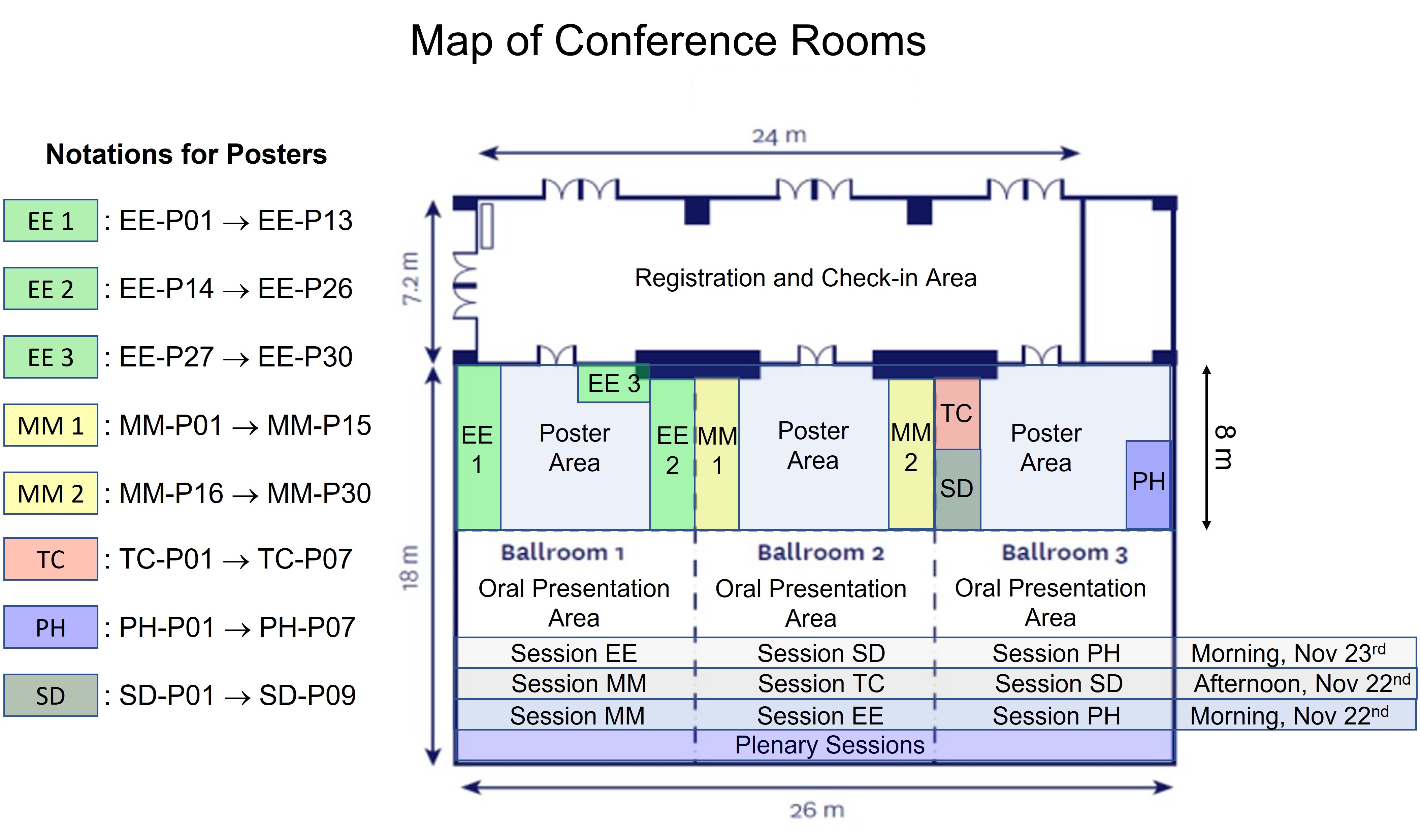 All poster sessions are organised from 13h30 to 14h30, November 22nd, 2022.
+ The maximum poster size is 594 mm in wide × 841 mm in high.
+ Arrange your poster so the information flows along the height of the poster and the sequence can be easily followed in one side.
+ The standard format of a poster should include Title, All Authors, Introduction, Experiments / Methods, Results and Discussions, Conclusions, etc. like the below layout: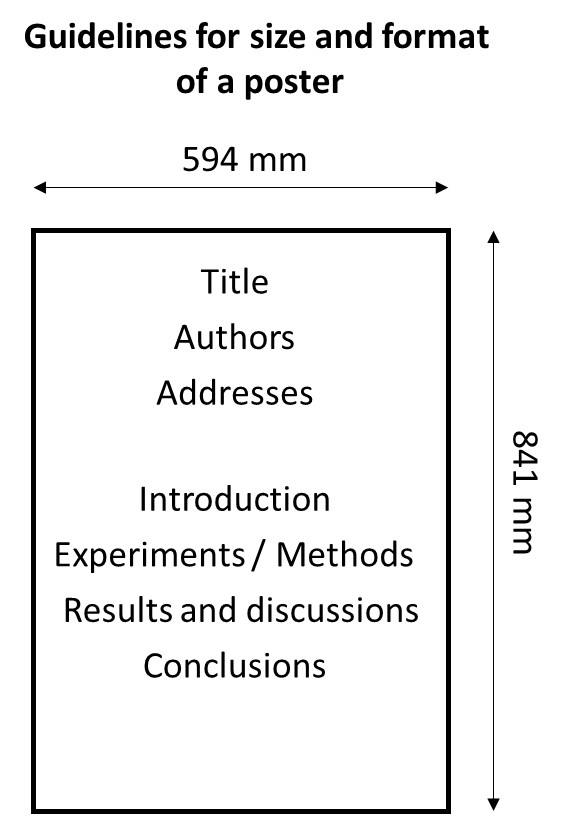 Posters will be sticked on the wall in the poster areas by yourself. We will prepare clear parking tapes for you.
The below table is the layout of program. To see the tentatively detail program of the Symposium please click here.
Time
Event
Day 1 (21/11/2022):
Arrivals at Phu Quoc Island
13:00 - 18:00
Registration
18:00 - 19:00
Meeting of the International Advisory Board and the Key Scientific Program Committee
19:00 - 21:00
Welcome party for Invited speakers and International Advisory Board
Day 2 (22/11/2022):
Conference
8:00 - 8:30
Registration
8:30 - 9:00
Opening ceremony

+ Sponsor's remarks

+ Organizer's remarks

+ Keynote speeches
Opening Plenary Session
9:00 - 9:30
Plenary Talk 1: Prof. Akihide Kuwabara from Japan Fine Ceramics Center
9:30 - 10:00
Plenary Talk 2: Prof. Yoon-Hwae Hwang from Pusan National University
10:00 - 10:30
Plenary Talk 3: Prof. Nguyen The Toan from VNU-University of Science Cancel
10:30 - 11:00
Coffee break, Taking pictures
Parallel Sessions 1 (3 sessions: Session MM, Session EE, and Session PH)
11:00 - 11:20
Talk MM-I01, EE-I01, PH-I01
11:20 - 11:40
Talk MM-I02, EE-I02, PH-I02
11:40 - 12:00
Talk MM-I03, EE-I03, PH-I03
12:00 - 12:15
Talk MM-O01, EE-O01, PH-O01
12:15 - 12:30
Talk MM-O02, EE-O02, PH-O02
12:30 - 13:30
Lunch
13:30 - 14:30
Poster Sessions (5 sessions: Session EE, Session MM, Session SD, Session PH, and Session TC)
Parallel Sessions 2 (3 sessions: Session MM, Session TC, and Session SD)
14:30 - 14:50
Talk MM-I04, TC-I01, SD-I01
14:50 - 15:10
Talk MM-I05, TC-I02, SD-I02
15:10 - 15:30
Talk MM-I06, TC-I03, SD-I03
15:30 - 15:50
Talk MM-I07, TC-I04, SD-I04
15:50 - 16:10
Talk MM-I08, TC-I05, SD-I05
16:10 - 16:30
Talk MM-I09, TC-O01, SD-I06
16:30 - 16:45
Coffee break
Parallel Sessions 3 (3 sessions: Session MM, Session TC, and Session SD)
16:50 - 17:10
Talk MM-I10, TC-I06, SD-I07
17:10 - 17:30
Talk MM-I11, TC-I07, SD-I08
17:30 - 17:45
Talk MM-O03, TC-I08 (end time: 17:50), SD-O01
17:45 - 18:00
Talk MM-O04, TC-I09 (start time: 17:50, end time: 18:10), SD-O02
18:00 - 18:15
Talk MM-O05, TC-I10 (start time: 18:10, end time: 18:30), SD-O03
18:15 - 18:30
Talk MM-O06, SD-O04
18:30 - 18:45
Talk MM-O07, TC-O02, SD-O05
19:30 - 21:30
Banquet
Day 3 (23/11/2022):
Conference
Parallel Sessions 4 (3 sessions: Session EE, Session SD, and Session PH)
8:00 - 8:20
Talk EE-I04, SD-I09, PH-I04
8:20 - 8:40
Talk EE-I05, SD-I10, PH-I05
8:40 - 8:55
Talk EE-O03, SD-O06, PH-O03
8:55 - 9:10
Talk EE-O04, SD-I11, PH-O04
9:10 - 9:30
Talk EE-I06, SD-I12, PH-I06
9:30 - 9:45
Talk EE-O05, SD-O07, PH-O05
9:45 - 10:15
Coffee break
Closing Plenary Session
10:15 - 10:45
Plenary Talk 4: Prof. Wu-ching Chou from National Yang Ming Chiao Tung University
10:45 - 11:15
Plenary Talk 5: Prof. Ekkes Bruck from Delft University of Technology
11:15 - 11:45
Plenary Talk 6: Prof. Mikhail Brik from Jan Dlugosz University, Poland
11:45 - 12:00
Final remarks, Introduction of the next FMS
Conference closes