News regarding FMS2022 will be updated soon
Overview
It is our great pleasure to announce that the 6th International Symposium on Frontiers in Materials Science (FMS 2022) will be held in Phu Quoc Island, Vietnam, from 21st to 23rd November 2022.
This event, which continues on a delayed FMS 2021 (Hsin-chu, Taiwan, 2021) due to Covid-19, covers a broad range of research activities in all areas of modern materials science.
Phu Quoc is an isolated island of Vietnam located in the most southern area of the East-Sea. It is a favourite and very attractive location for tourism worldwide and is currently open for foreigners without quarantine. It is likely that Phu Quoc is going to be fully available soon. Even if the Covid-19 situation in Vietnam worsens it would stay opened for travellers who have two shots of common vaccines such as Moderna, Astra-Zeneca or Pfizer.
However, to be safe, FMS 2022 will be organized as a hybrid symposium with online and offline meetings in parallel. The online meeting will be available freely to all registered participants.
Phu Quoc is usually in a peak tourism season in November so please register for your participation as soon as possible so we know how many meeting rooms and equipment should be rent. The temperature in November in Phu Quoc is above 30 degree Celcius.
Main Subject Catergories
Contributed reports are called describing works in materials science, engineering, and related applications. Topics and technical areas of interest include but are not limited to the following image: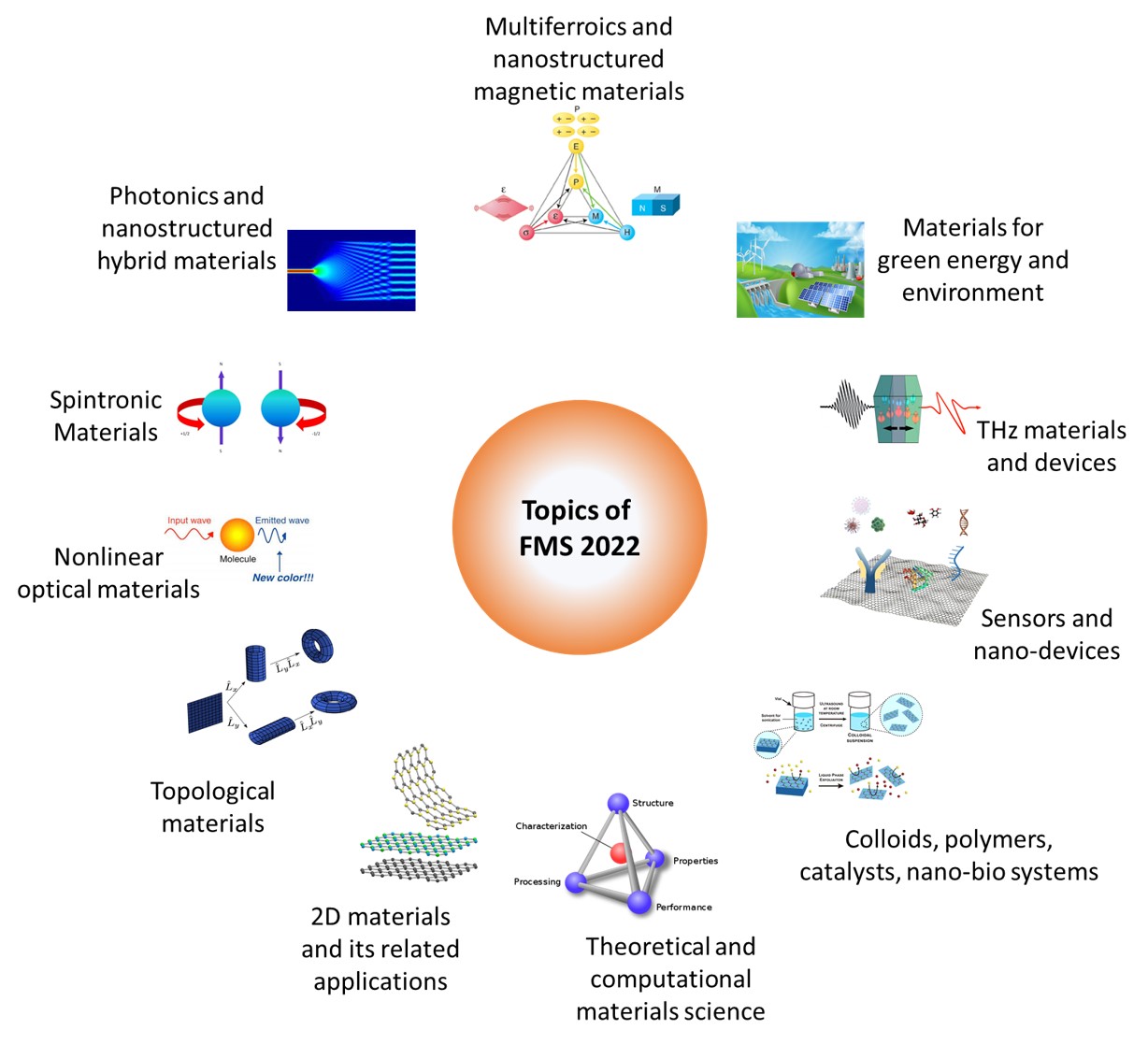 Key Scientific Program Committee Members
| Name | Institution | Country |
| --- | --- | --- |
| Masato Yoshiya | Osaka University | Japan |
| Tomoyuki Yamamoto | Waseda University | Japan |
| Michael Lang | Goethe University Frankfurt | Germany |
| Markus Muenzenberg | Greifswald University | Germany |
| Wu-Ching Chou | National Yang Ming Chiao Tung University | Taiwan |
| Hyung Kook Kim | Pusan National University | Korea |
| Vu Ngoc Tuoc | Hanoi University of Science and Technology | Vietnam |
| Dinh Van Trung | Vietnam Academy of Science and Technology | Vietnam |
| Hoang Nam Nhat | VNU-University of Engineering and Technology | Vietnam |
| Bach Thanh Cong | VNU-University of Science | Vietnam |
MEETING of THE INTERNATIONAL ADVISORY BOARD and THE KEY SCIENTIFIC PROGRAM COMMITTEE
The meeting of the international advisory board members and the key scientific program committee members will be held in the afternoon of November 21st, 2022.
The invitations to this meeting will be individually sent to each the international advisory board members and the key scientific program committee members.
Announcement of a Satellite meeting
"Functional materials for salinity sensing"
Date: November 24th - 25th, 2022
Place: VNU University of Engineering and Technology, Hanoi, Vietnam
Hosted by: Prof. Hoang Nam Nhat, Prof. Nguyen Hai Chau, Prof. Nguyen Linh Trung, Dr. Bui Dinh Tu, Dr. Nguyen Anh Tuan, with support from the VIN Innovation Fund's Project VINIF2020.DA18
Participants: The invitation letters will be sent individually
Exhibition
An exhibition of equipment, services, software, materials, journals and books will be held as a part of this Symposium. Individuals and organizations who are interested in purchasing booth space should contact Secretary of Symposium at fms2022.phuquoc@gmail.com.
Letters of Invitations
This is a TEMPLATE of INVITATION LETTER. If you need other information written in the letter, please let us know.
The PDF files of letters of invitation will be sent to the registered email addresses one month before the Symposium opening date. Please send your request to fms2022.phuquoc@gmail.com in case you need a hardcopy of the letter.
Supports and Fees
Supports and fees policy for students, retired scientists and mothers in care of their children will be decided later.
Covid-19 Important Note
As released on May 13th, 2022 by Vietnamese Government under the Official Dispatch No. 416/CĐ-TTg, the travelers to Vietnam (including tourists) DO NOT need to enter any kind of quarantine from May 15th, 2022. All the restrictions are removed.
More detail is in the following links:
https://www.vietnamairlines.com/fr/en/covid-19/chuan-bi-truoc-chuyen-bay/hanh-trinh-quoc-te
https://xuatnhapcanh.gov.vn/en/tin-tuc/notice-7

Covid-19 Testing Service at Phu Quoc
At International Hospital Vinmec Phu Quoc (35 km from the symposium venue), you can take both COVID-19 RT-PCR test and antigen test services. It is possible for you to take the test from 8 am to 4 pm everyday and receive the PCR test within 24 hours. This could suit your strict timetable, especially when you are in need of a fit-to-fly certificate for departure.
This is the form of Covid-19 test result certificate of the hospital.
Please register using website of the hospital or calling +84 297 398 5588.
If you need any help for the Covid-19 Test, please contact the Secretary of Symposium.